Antique floor tiles modell :Jugendstil ceramic motif tiles
This antique Jugendstil ceramic tiles come from the French Border.
The floor is ± 8,8 m2
In this Floor are:
- 134 blue Tiles
- 132 green Tiles
- 71 Border Tiles
The Tiles are ± 16,5 cm x 16,5 cm x 1,5 cm
These antique ceramic floor tiles are hard baked and very good to use at: Kitchens, halls, toilet, bathrooms and even outside in the garden.
At Hestia Maastricht you can also buy a small part of the motive floor.
These motive tiles are cleaned at the bottom.
We also can provide the transport throughout Europe.
Floor number: 832
Click here to get a brochure or request information about the motive floor tiles.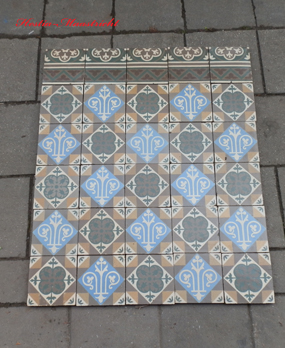 Back