Antique marble columns fireplace
This beautiful antique marble fireplace comes from Brussels. The Fireplace Mantle is made of the noir de mazy and rouge griotte.
This antique marble fireplace has a unique and custom made fire mouth. This consists of a cast iron fireback at the rear, two cast iron firebacks on the sides and a very nicely decorated threw iron plate on the front.
The fireplace mantle has been glowed into 3 parts the left, right piece and the front piece. Because of this is the fireplace easy to transport and assemble.
The chimney is sold complete with the unique fire mouth.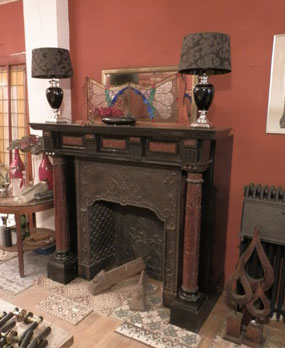 Back